Big Sissy, Bubby
, and I went on a cooking binge on Sunday afternoon making recipes #6, #7, and #8 from
Gooseberry Patch's
Sunday Dinner at Grandma's
as part of Gooseberry Patch and T
he Real Farmwives of America and Friends
"In the Kitchen" series
. This means I only have 2 more recipes to go until it it time to give-a-way a copy of Sunday Dinner at Grandma's to one of my lucky readers thanks to Gooseberry Patch.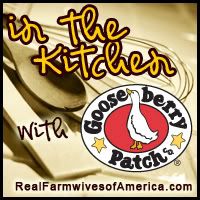 So with the Sour Cream Drop Cookies recipe in hand, Big Sissy got busy.
Sour Cream Drop Cookies
Ingredients
3/4 c. butter, softened
1 1/2 c. sugar
2 eggs, beaten
1 t. vanilla extract
1/2 t. lemon or orange extract
8 oz. sour cream
3c. all purpose flour
1t. baking powder
1t. baking soda
After figuring out the mixer was not plugged in, Big Sissy got started on blending together her butter and sugar.
Fold in sour cream; set aside.
Combine flour, baking powder, and baking soda.
Drop by teaspoonfuls onto greased baking sheets (we linked our baking sheets with parchment paper instead of greasing them).
Bake at 350 degrees for 10 to 12 minutes.
Enjoy!!
Special thanks to Gooseberry Patch for providing me with this great cookbook to try and share with you. If you would like to purchase this or other cookbooks, please visit their store. If you would like to see other great recipes, check out www.realfarmwivesofamerica.com .