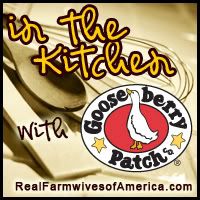 Well I've made all 10 recipes from my
Gooseberry Patch
cookbook,
Sunday Dinner at Grandma's,
as part of Gooseberry Patch and
The Real Farmwives of America and Friend
s
"In the Kitchen" series
.
About a month ago
, I started cooking from this cookbook and I'm almost kind of sad that I'm ready to tell you about #10, but don't worry I still have a long list of recipes from this cookbook that I want to try and I'm sure I will share a few of them.
Plus,
Little Sissy
has just got started helping me in the kitchen. At age 2, she is already showing she won't be outdone by
Big Sissy and Bubby
.
Pecan Coffee Cake
Ingredients for coffee cake
1 1/2 cup butter, softened and divided
1c. sugar
2 eggs, beaten
1t. vanilla extract
3c. all-purpose flour
1T. baking powder
1/2t. salt
1c. milk
Ingredients for Pecan Filling
1 1/2c. brown sugar,
packed
2t. cinnamon
1c. broken pecans (I used pecan chips)
Blend one cup butter and sugar in a large bowl.
Stir in eggs and vanilla; set aside.
Mix flour, baking powder and salt in a separate bowl.
Add flour mixture and milk alternately to butter mixture; stir well.
Pour half of batter into a lightly greased and floured 9x13 baking pan.
Mix together Pecan Filling.
Sprinkle half of Pecan Filling over batter. Top with remaining batter, then remaining filling.
Melt remaining butter.
Drizzle over top.
Bake at 375 degrees for 20-30 minutes.
This was delicious served warm, but Bubby is loving is as a bedtime snack as well.
Now that I've made my 10 recipes,be sure to stay tuned as I will soon be giving away a copy of this amazing cookbook to one of my lucky readers thanks to Gooseberry Patch!
Special thanks to Gooseberry Patch for providing me with this great cookbook to try and share with you. If you would like to purchase this or other cookbooks, please visit their store. If you would like to see other great recipes, check out www.realfarmwivesofamerica.com .