What a weekend it has been...
The three kids and I packed up on Friday afternoon and headed to my mom's (3 hours away) and went pretty much non-stop until just now. In a 48 hour time span, we all four got our haircut, attended a baptism and a baptism brunch for a special little girl (my cousin and godchild), hit the swimming pool at my Aunt's, went to my cousin's high school graduation party, went to church, out to breakfast, and attended a
4-H meeting
this afternoon.
Needless to say everyone is a bit more tired than usual and we didn't get any baking done at the pigpen this weekend. So I thought I'd share the recipes for the 2 loaves of bread that
Bubby
made last weekend. They also just happen to be
recipe #7 and #8
from
Sunday Dinner at Grandma's
which means I only have 2 more recipes to go until it is time to giveaway a copy of the cookbook to one of you thanks to
Gooseberry Patch
. And I'e actually already made recipe #9 which means I really only have one more to go. Woo hoo!!!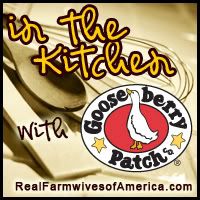 Banana-Nut Bread
Ingredients
2c. all-purpose flour
1c. sugar
1t. baking soda
1/4t. salt
1/2c. canola or safflower oil (we used canola)
2 eggs, beaten
3 very ripe bananas, mashed
1c. chopped walnuts or pecans (at this pigpen this ingredient is optional especially when the kids and I are baking.)
Combine flour, sugar, baking soda, and salt in a bowl; mix well and set aside.
In a separate large bowl, mix oil and eggs; add bananas.
Add flour mixture and mix well; stir in nuts.
Pour batter into greased 9x5 loaf pan or two, 7x3 loaf pans. (We used a 9x5.)
Bake at 350 degrees, 45 minutes for a regular loaf pan or 25-30 minutes for 2 smaller pans.
Cinnamon Bread
Ingredients
1/2 c. shortening
1c. sugar
2 eggs, beaten
2c. all-purpose flour
1t. baking powder
1/2t. baking soda
1/4t. salt
1c.
sour milk or buttermilk
3T. sugar
1t. cinnamon
In a large bowl, blend shortening and sugar.
Stir in eggs and set aside.
In a separate bowl, combine flour, baking powder, baking soda, and salt.
Add to shortening mixture alternately with milk.
Mix sugar and cinnamon in a cup; set aside. (
Big Sissy
helped with this step.)
In a greased 9x5 loaf pan, alternate 4 layers of batter and sugar mixture.
Bake at 350 degrees for one hour.
Cool on a wire rack.
Both of the breads were a big hit here. For being a quick bread, the cinnamon bread was very light and yummy.
And thanks to my Gooseberry Patch cookbook, I gained a new tip for the kitchen: "Quick breads will have a better flavor if you store them overnight before slicing and serving them."
Hope you all had a great weekend!
Special thanks to Gooseberry Patch for providing me with this great cookbook to try and share with you. If you would like to purchase this or other cookbooks, please visit their store. If you would like to see other great recipes, check out www.realfarmwivesofamerica.com .