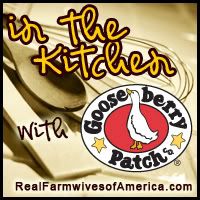 Being able to participate in the
Gooseberry Patch
and
The Real Farmwives of America and Friends
"In the Kitchen"
series was an awesome experience. I will be forever grateful to Gooseberry Patch for giving me this amazing opportunity to receive one of their cookbooks (
Sunday Dinner at Grandma's
) for free,
cook 10 family approved recipes from it
, and then giveaway the same great cookbook to one of my lucky readers. It's been a lot of fun and I'm sure you'll be seeing a lot more Gooseberry Patch recipes from this pig pen.
So with no further ado, the winner is #12 thanks to
Random.org
.
Congrats to Cristi who follows me on Facebook and has actually been a great friend since college!
Cristi's winning comment was as follows:
Anonymous said...
I follow you through
FB
..... Cristi
ecaulbach
@
earthlink
.net
Congrats again to Cristi! I will put your cookbook in the mail this week. I hope you enjoy it as much as I have.
Thanks again Gooseberry Patch and to all that entered!
Special thanks to Gooseberry Patch for providing me with this great cookbook to try and share with you. If you would like to purchase this or other cookbooks, please visit theirstore. If you would like to see other great recipes, check outwww.realfarmwivesofamerica.com .