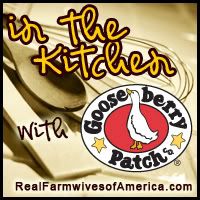 As you know I have spent the last month cooking and baking 10 recipes from Sunday Dinner at Grandma's thanks to Gooseberry Patch and their "In the Kitchen" series with The Real Farmwives of America and Friends. I can't believe how fast the past month has gone and that my 10 recipes have already come and gone. We had a lot of fun trying out these new recipes and still have more than a few that we would like to try out soon.
In case you missed one, here are the 10 recipes that I prepared:
And now the best part of all of this is not only did Gooseberry Patch give me one copy to cook and bake from over the last month, but they also gave me an extra copy of Sunday Dinner at Grandma's to giveaway to one of my lucky readers. Big Thanks to Gooseberry Patch!!!!!
So with no further ado, let's get down to business.
Contest ends 9PM EDT on June 26th and the winner will be selected at random. The winner must live in the continental U.S.