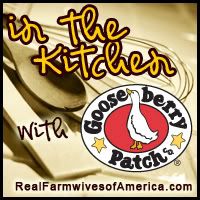 This recipe intrigued me from the minute I received my free copy of
Sunday Dinner at Grandma's
thanks to
Gooseberry Patch
and their
"In the Kitchen" series
with
The Real Farmwives of America and Friends
. It sounded super easy and used the same ingredients I use to make my sloppy joes: chili sauce and brown sugar.
So after I found a package of
pork chops, possibly from our pigs
, on sale at the grocery, I thought it was a sign that we should try these chops and I'm sure glad we did as we'll be making them again at this pigpen.
Pork Chop Delight
Ingredients
8 boneless thin-sliced pork chops
1/3c. water
1/2c. chili sauce, divided
1 1/2c. brown sugar, packed
Place pork chops in an ungreased 13x9 baking pan. Add water to bottom of pan to prevent sticking. (I added the water before I put the pork chops in my baking pan.)
Top each pork chop with a tablespoon of chili sauce.
Sprinkle brown sugar over all.
Bake, uncovered, at 325 degrees for one hour; do not turn pork chops over.
Enjoy!!
Special thanks to Gooseberry Patch for providing me with this great cookbook to try and share with you. If you would like to purchase this or other cookbooks, please visit their store. If you would like to see other great recipes, check out www.realfarmwivesofamerica.com .