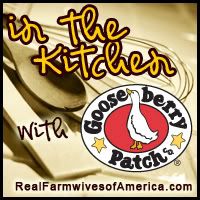 Mother's Day was the perfect opportunity for me to make not one, but two recipes from
Gooseberry Patch's
Sunday Dinner at Grandma's
as part of the Gooseberry Patch and
The Real Farmwives of America and Friends
In the Kitchen partnership
. Since
recipe #1
was slightly nutritious, I had to go with something sweet for recipe #2: Peanut Butter Brownies
Ingredients
1/3 c. shortening
2 T. baking cocoa
1 c. sugar
2 eggs, beaten
1/2 c. all-purpose flour
1/4 t. salt
1/3 c. creamy peanut butter
In a small saucepan over low heat, melt shortening and cocoa together.
Cool; transfer to a medium bowl.
Stir in sugar and eggs.
Add flour and salt.
Mix well; fold in peanut butter.
Spread in a greased 8"x8" baking pan.
Bake at 350 degrees for 20 to 25 minutes.
Enjoy! (These brownies didn't make it 24 hours at my pig pen.)
Special thanks to Gooseberry Patch for providing me with this great cookbook to try and share with you. If you would like to purchase this or other cookbooks, please visit their store. If you would like to see other great recipes, check out www.realfarmwivesofamerica.com .