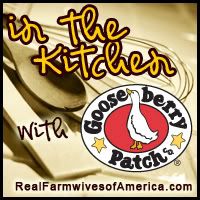 The Real Farmwives of America and Friends
are always up to something in the kitchen, at their house, and on their farms and I am so proud to be one. Earlier this spring, they announced their I
n the Kitchen partnership with Gooseberry Patch
. Thanks to that partnership I received not one, but two of
Gooseberry Patch's
Sunday Dinner at Grandma's
cookbooks. One for me to cook 10 recipes from over the coming months, and one to give away to one of my lucky readers after I've made my 10 recipes.
Well for our Mother's Day celebrations with my mother-in-law and sister-in-law and our respective families, I was able to make not one but two recipe from Sunday Dinner at Grandma's. The first one came from the Garden Patch Sides & Salads section: Easy Mandarin - Spinach Salad
Ingredients
1 1/2 lbs. baby spinach
2, 11 oz. cans mandarin oranges, drained
2 1/4 oz. pkg. sliced almonds, toasted
Italian salad dressing to taste
Combine the spinach, oranges, and almonds in a large salad bowl. Before serving, drizzle with salad dressing.
It appears this salad was a hit as this was all that was left.
Special thanks to Gooseberry Patch for providing me with this great cookbook to try and share with you. I
f you would like to purchase this or other cookbooks, please visit their store.