As a
ham farmer AKA pig farmer
, we love to eat pork so I was very excited when
Ott, A
announced
ham
would be the secret ingredient for her May
Iron Chef Challenge
.
From the beginning, I had a little bit of an internal conflict in trying to decide if I should make a half ham or some sort of diced ham casserole. To make the decision even harder for me, my cookbook of choice,
Gooseberry Patch's
Sunday Dinner at Grandma's
had a recipe for both which intrigued me.
Cheesy Ham Potatoes
caught my attention as my sister-in-law made us a yummy ham and cheesy potato concoction when
Little Sissy
was born.
Farmstyle Ham & Gravy
definitely caught my eye as it called for brown sugar and ginger ale. My normal go-to ham recipe uses brown sugar and
Coca-Cola
.
So since I had both smoked ham cubes and a smoked half ham in
my freezer
, I decided to make both.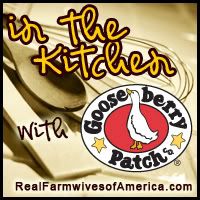 Cheesy Ham Potatoes
Ingredients
30 oz. pkg. frozen diced potatoes
10 3/4 oz. can cream of potato soup
10 3/4 oz. can cream of celery soup
8 oz. container sour cream
1 c. milk
1 lb. cooked ham, diced
2 green onions, chopped
salt and pepper to taste
8 oz. shredded sharp Cheddar cheese, divided
In a large bowl, combine all ingredients, reserving one cup cheese for topping.
Since potatoes are still frozen, be sure to break up any large clumps.
Bake, covered, at 350 degrees for one hour. Then, sprinkle reserved cheese on top. Cook, uncovered, for an additional 30 minutes.
Let stand for a few minutes before serving.
This was quite popular at this pig pen with no leftovers to speak of.
Farmstyle Ham & Gravy
Ingredients
8-10 pound fully-cooked ham, boneless or bone-in
whole cloves to taste
3/4 c. brown sugar, packed
2, 12 oz. cans ginger ale
Place ham in an ungreased roasting pan. (From my coke and brown sugar ham recipe, I have learned to use a disposable roasting pan.) Insert cloves, a few inches apart on top and partway down sides of ham.
Pat brown sugar onto top and sides of ham. Gently pour ginger ale over ham without rinsing off all the brown sugar. (I purchased a 2 liter bottle of ginger ale as opposed to cans.)
Pour remaining ginger ale into roasting pan.
Cover and bake at 325 degrees for one to 1 1/2 hours, until a meat thermometer inserted in center of ham reads 140 degrees. (This pigpen had some issues with the cooking time and our meat thermometers. After over 1 1/2 hours of cooking and two different meat thermometer readings, we thought it was done. Truth be told, it probably could have cooked a little bit longer to get it completely heated all the way through, but we weren't worried since we started with a smoked/fully-cooked ham.)
Remove ham to a serving platter, reserving drippings. Let ham stand for 5 to 10 minutes before slicing.
Let ham stand for 5 to 10 minutes before slicing.
Serve with Pan Gravy.
This ham was so moist and delish. I didn't even think it needed the pan gravy it was so good, but if gravy is your thing, here's the recipe:
Transfer drippings from roasting pan to a sauce pan; bring to a boil over medium heat. Whisk together 1/2 cup cornstarch and 1 cup cold water. Slowly add mixture to pan drippings, whisking well. Cook and stir until gravy thickens. Use more or less of cornstarch mixture, depending upon quantity of drippings.
So depending on how you like your ham, here are two easy and yummy recipes with high remarks from the pigpen.
Enjoy!
Special thanks to Gooseberry Patch for providing me with this great cookbook to try and share with you. If you would like to purchase this or other cookbooks, please visit their store. If you would like to see other great recipes, check out www.realfarmwivesofamerica.com .