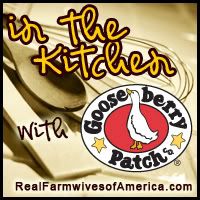 Well, I'm at the half way point. 5 more recipes and I will get to giveaway a copy of
Sunday Dinner at Grandma's
thanks to
Gooseberry Patch
and their
"In the Kitchen"
partnership with
The Real Farmwives of America & Friends.
Recipe #5 comes from the Scrumptious Desserts section of Sunday Dinner at Grandma's and it definitely did not disappoint.
(Now let me just say, I really thought I took more pictures while I was making this especially the one with all of the melted butter, but I guess not as they aren't on my memory card so you might have to use your imagination on a few of the steps.)
Granny's Chocolate Cobbler
Ingredients
3/4 c. butter, melted
3 c. sugar,
divided
1 1/2 c. self-rising flour*
1/2 c. milk
1/2 c. plus 2T. baking cocoa,
divided
2 t. vanilla extract
2 1/2 c. boiling water
Spread melted butter in a 13"x9" baking pan; set aside. (I just melted the butter in my microwave in the baking pan to limit my number of dirty dishes. Just be sure to turn off the turntable.)
In a large bowl, combine 1 1/2 c. sugar, flour, milk, 2 T. cocoa and vanilla. (Now, I must admit I didn't realize it when I made this but I did slightly deter from the recipe here as I added 1/4 c. and 1T. of cocoa since the recipe called for the cocoa to be divided. I guess I took the word divided too literally. This could explain why my batter didn't exactly pour into the baking pan in the next step, but I would say it had no impact on the taste. Just ask
Miss Leah
,
Miss Cris
, and
Miss Megan
if you don't believe me. And talking to them while making this may or may not have had any impact on me following the recipe or taking pictures.)
Pour over melted butter in pan. (Remember from above, my batter did not pour, but I did spread it out in the pan and then moved around the pan to get the melted butter evenly distributed over my batter.)
In a small bowl, mix together remaining sugar and cocoa.
Sprinkle evenly over batter.
Pour boiling water over batter; do not stir.
Bake at 350 degrees for 30 minutes. (When you take this out of the oven, the middle will seem a little jiggly for lack of a better word, but the top is set.)
Serve warm and add vanilla ice cream, whip cream or
Cool Whip
if desired.
Enjoy!!
*Thanks to a great tip in this cookbook on page 16, I was able to make my own self-rising flour. Per Gooseberry Patch, to equal one cup self-rising flour, substitute one cup all-purpose flour plus 1 1/2 t. baking powder and 1/2 t. salt. This is a great tip as I always have all-purpose flours, baking powder, and salt on hand... self-rising flour is another story.
Special thanks to Gooseberry Patch for providing me with this great cookbook to try and share with you. If you would like to purchase this or other cookbooks, please visit their store. If you would like to see other great recipes, check out www.realfarmwivesofamerica.com .