Welcome to a very special edition of
Farmer Fridays
. As I mentioned
last week
, once a quarter, the last Friday of each quarter, I am going to do a special feature within Farmer Fridays. Some of my farmer/farmwife buddies and I, The Real Farmwives of America, will address a particular question once a quarter about our lives on the family farm. I hope you will enjoy this addition to Farmer Fridays.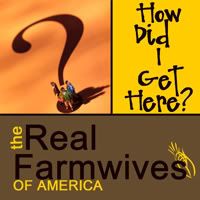 So this quarter's questions is How Did I Get Here?
Well,
The Farmer
is the 4th generation of his family to farm in our county and we are proud to be raising the 5th generation of future corn, soybean, and pig farmers. But how did I get here you may ask? Well here's my story.
My parents both grew up on family farms. In fact, my mom grew up on a pig farm and my parents met while showing pigs at the county fair so my love of pigs and tractor driving days started early.